About the project

It has been almost 17 years since the Great Hanshin Awaji Earthquake. It was while the country was still on their way to recovery, when the Great East Japan Earthquake struck in 2011.

At this very moment, quite a few creators are searching for something they can do. Is there a way to reflect on the disaster relief efforts of the past, in order to learn from them and plan future relief strategies? And how can it be made accessible to everyone? This project was born from a team of designers in Tokyo who had such thoughts.

"Great Hanshin-Awaji Earthquake + Creative Timeline Mapping Project" is an integral project which not only intends to create a chronological table of all the relief activities that happened in the creative field since 17 January 1995, but also sums up the various contents in various ways, such as overview of the activity, interview with the creators, and reports on their reflections.

Our goal is to direct how creativity can contribute to long-term relief efforts, and indicate a guideline for creators on what they can do to further support the recovery or how to respond to potential natural disasters in the future. There is a significance to transmitting such an archive from Japan, as it is a country with advanced disaster prevention strategies.

Our team consists of volunteer workers from a variety of fields, from students to professionals active in their creative fields. This project never ends – it keeps updating and offering new information.

Our hope is to gain wide-ranging perspectives on disaster relief, in order to think together and take better action.

We sincerely ask for your support and participation, as we wish this project and style will provide a standard.

Last but not least, we would like to thank the people who cooperated with us with their response to our questions, interviews, or request for documents. We express our sincere appreciation and look forward to the ongoing support.

October 2011
Project outline
April 2, 2011 meeting by founders (project launch meeting) / April 25, kick-off meeting (1st plenary session, initial research launched) / May 12, architects working group meeting / May 25, 2nd plenary session / June 8, architects working group meeting / June 20, architects working group meeting / June 29, 3rd plenary session (initial research continued, secondary research & interviews started) / July 20, 4th plenary session / August 8, designers working group meeting / August 12, architects working group meeting / August 17, designers working group meeting / August 25, 5th plenary session / September 20, 6th plenary session (mapping project launched) / October 13, 7th plenary session / October 26, official website released / February 2012 leaflet distribution / March 2012 - leaflet distribution / initial and secondary research, interviews, mapping project ongoing
Exhibition
2011
October 26
- November 5
"POST 3.11 Korekara Design ni Dekiru Koto (POST3.11 the possibility of design for the future)" (Tokyo)
December 9-14
"Design Week in Sendai 2011" (Sendai)
2012
January 17 - 29
"1.17 Kara 3.11 e (From 1.17 to 3.11) / KIITO" (Kobe)
February 18
- March 12
"1.17/3.11 Architecture for Tomorrow" (Osaka)

March 6
- March 15
Otenin Temple "Commons Festa 2012" (Osaka)
March 20
- May 6
"Fukko - Machi wo Saikensuru Tsunagari no Chikara (Reconstruction - the power of the connection to rebuild the town)" (Nagoya)
May 5
"COMIN' KOBE 12" (Kobe)
2013
January 17-27
The exhibition of the Great East Japan Earthquake regeneration support action project "Making as Living" in Kobe
Media coverage
2011
May 10
Kobe Shimbun
October
JDN
December 16
Kobe Shimbun
December 27
exsite.ism
December 30
AXIS Magazine jiku
2012
January 12
HITSPAPER
January 14
Mainichi Shimbun
January 21
Kobe Shimbun
March 10
greenz
Member
Collaborators
Kobe University Lybrary Great Hanshin-Awaji Earthquake Disaster Materials Collection/ Great HanshinAwaji Earthquake Memorial Disaster Reduction and Human Renovation Instituttion / Kobe Chuo Municipal Library Materials Collection / Kobe Design University Media Library / Ishikawa Special Express Binding Co., Ltd. / Kyoei Printing Co.,Ltd. / Atsuko Aoyagi / Chika Aya / Kotaro Izawa / Ayano Ikehara / Junko Iwabuchi / Kengo Kawaguchi / Yushi Kawashima / Kazumasa Kimura / Mariko Kimura / Mitsuhiro Kyota / Hajime Kuge / Akihiro Kumagaya / Koji Shimizu / Koichi Sumida / Kuniaki Takenaka / Hiroshi Nakagawa / Yoshiyuki Negishi / Fumiko Fukushima / Yuhei Hozumi / Wataru Honda / Chikako Furukawa / Yoshio Yasui / Koichi Yanagimoto / Junko Yamamoto
Researchers
Atsuko Uenoyama / Ayumi Ohira / Masahiro Okamoto / Takayuki Oshitani / Jun Obara / Norio Kataoka/ Kei Kato / Kimiko Kanoh/ Hiroyuki Kawai / Hirohito Kawauchi / Genta Kitaoka / Yuri Kono / Tadashi Kobayashi / Hirokazu Kobayashi / Rune Kobayashi / Fukumi Komori / Hidenori Kondo / Satoshi Sato / Chizu Takai / Kaori Tarui / Daisaku Nagaki / Masakuni Nakata / Yu Nakano / Maki Nakano / Yu Nakano / Kaoru Nikaido / Takeshi Nishi / Satosi Nukina / Keita Fukazawa / Park Chae Yoo / Haruka Furuya / Noritaka Hotta / Chisaki Maesaka / Takehiro Matsuda / Hitomi Matsumoto / Chika Mitsuya / Shinji Mitori / Haruna Miyata / Yusuke Murosaki /Haruna Yamada / Kyohei Yamada / Hideto Yamada
Exhibition collaborators
Designer:Taiki Kato / Kazumasa Kimura / Shunsuke Satake / Yosuke Miyashita / Takehiro Wada Video producer:Tomoya Kishimoto / Kenji Tnaka / Yosuke Miyashita / Hideto Yamada Display work:Yuka Egami / Takayuki Oshitani / Saki Nagabuchi / Maki Nakano / Kaoru Nikaido / Cinematographer:Natsumi Morimoto
Producer
Design: SPREAD / Copywriting: Kaoru Nikaido / Web: Yoshikazu Ishibata / Hironori Nakahara / KARAPPO
Adviser
Hirokazu Nagata (Head director of Nonprofit Organization Plus Arts / Planning and Producer)
Hisako Hara (Professor of Osaka Electro-Communication University / Art producer)
Takashi Serizawa (Head director of P3 art and environment)
Hiroyuki Kawai (Professor of Kobe Design University / Art and Design creator)
Osamu Tsukihashi (associate professor of Kobe University / Architect)
Hiroaki Kuwabara (atelier SOU / Architect)
Yuka Egami (Hyogo Prefectural Museum of Art / Curator )

Project promoter: SPREAD
Organizer:
Design and Creative Center Kobe (KIITO)
1-4 Onohama-cho, Chuo Ward, Kobe, Hyogo Prefecture, Japan 651-0082
TEL: +08 78-325-2201 FAX: +08 78-325-2230
Email: info@tm19950117.jp
Special request
The Great Hanshin-Awaji Earthquake + Creative Timeline Mapping Project is operated by volunteer staff who devote their time to collect material and research as well as interviewing creators to write articles.

We would like to request that you contact us about any incorrect information found on this website. Additionally, please do let us know if you hear about interesting relief initiatives or know someone who is engaged in such activities. We believe that information is out there waiting to be discovered. Please share with us your experience, knowledge, and connections so that we can amplify this project in order to fuel new community initiatives.
About the logo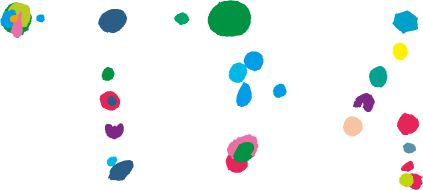 Our logo which symbolizes the alphabetical letters "T" and "M" was created by connecting the dots that were hand-drawn by each of our volunteer staff. During its design process, we handed out a piece of paper to each staff with the two alphabets and had them draw a circle anywhere they liked on the letters and choose a color for their artwork from a list of 21 colors.

"The Great Hanshin-Awaji Earthquake + Creative Timeline Mapping Project is based on picking up little pieces of disaster relief efforts by creators, including the ones that may not be widely known. The intertwined dots in the logo reflect our hope that the traces of these past experiences will help us build new initiatives and networks, thereby bringing bigger and better changes to the future. These "dots of hope" for Kobe and Japan will be continuously added for every project we discover and documented for the future as we go on with this initiative. Follow us on this website for our updates!