Support Network Newsletter
"Kinmokusei"
January 1995-July 1997,April 1999-March 2002, April 2003-March 2007
Ikuo Kobayashi / Community development company CO‐PLAN,Inc.
Text by Yu Nakano
Newsletters "Kinmokusei" / "Fukkou Shimin Machizukuri"
Ikuo Kobayashi / Community development company CO‐PLAN,Inc.
The Great Hanshin-Awaji Earthquake struck Japan on January 17, 1995. A month after this tragic event, Mr. Kobayashi published a newsletter called "Kimokusei" (meaning fragrant olive in Japanese) to report the status of the disaster-hit area. Mr. Kobayashi also worked to issue another quarterly publication called "Fukkou Shimin Machizukuri" (re-creating the community for citizens), which compiled community periodicals from different areas as well as public information distributed by the government. We interviewed Mr. Kobayashi about how these publications were born, and what he envisioned through these disaster recovery programs. .
Reporting on the community getting back to its "normal" shape
At the time, what we heard everyday on the media were all about so-called important stories, conflicts, and major success stories. Ordinary community efforts to get the city back to its "normal" shape were taken for granted and hardly made news. Failed cases were also hardly reported. So in order to let people in the whole country know about such facts, we must intentionally bring these issues to light. Mass media has their own role to fulfill, and disseminate what is noteworthy from the perspective of mass media. So we thought we would do something on our own that is necessary for our community planning.
Usually, residential houses famous for their great designs appear on the news. But buildings made as a part of standard redevelopment projects gain little attention. Famous or not, the amount of work and passion devoted by those who were involved are the same. There is no reason why these normal projects should not be announced to public. Unless we speak up for ourselves, our community development efforts will not get attention. This led us to the publication of the newsletter "Kinmokusei" as a means to communicate what we want people to know.
The three editions of "Kinmokusei"
The "Kimokusei" was issued about twice a month, for over 7 years (a total of ten years intermittently ). The objective for the publication varied from issue to issue. The early edition focused on real-time reports of community development projects. Our goal for the report was to share information with the residents, groups, and government officials in the local community, as well as academia and consultants. The real-time report was issued for three years, fulfilling its initial purpose.
About five years after the earthquake occurred, our publication entered the new phase of evaluation.At this time, the governments of the Hyogo prefecture and Kobe city started to file case studies. We followed this movement and issued a second edition of our newsletter. The second edition, named "Houkoku Kinmokusei" (Kinmokusei case review), outlined the activities carried out by the consultants and community development councils at various stages of community development, in order to examine the impact that such activities had brought to the community. The second edition lasted about about two years.
The third edition, "Gekkan Kinmokusei," was published as a monthly newsletter, for which we received funding by Japanese government. We published reports on ongoing community building initiatives in our ordinary towns, all from our own perspective, on our own platform.
During the first five years since its inauguration, "Kinmokusei" won a few fans. There were about 300 readers to whom we delivered printed copies directly. Later we utilized fax until we launched an electronic version during the final phase of our production. More precisely, our first issue was delivered in February 1995. After a few months we changed our delivery method to fax. We sent the newsletter by fax to Kyushu University and Hokkaido University which served as our hub to distribute the newsletters to the local readers. With this system, we cannot track how many people actually subscribed. It could have been easily over 300 people, I guess. Back then, Internet wasn't as common as now, and there were only things like fax and text-only bulletin boards available for our communication. That's what it was like back then.
Launch of Publication for Restoring Communities
The office of CO‐PLAN, Inc. was in the Nada Ward, just in the middle between Nishinomiya and Suma. As our office building was affected by the earthquake, we temporary relocated to a town that was a slight distance from our office. We were not the only ones to seek a temporary office, as most urban planning offices in Kobe were damaged after the earthquake, making it inevitable for many of them to relocate to a safer place. As the "Citizen's Network for Restoring Towns Damaged by the Great Hanshin Earthquake" was created to connect the urban planning professionals who were working in different districts, it was natural for them people to gather to one place.
Despite the local administration efforts to put together surveys and public hearings on city restoration proposals, often such measures was only reached to local officials. It was very hard to grasp real opinions of the local residents, especially since most of them were not present in the home community after they had escaped to an evacuation center, temporary housing, or to a relative's house who lived far away. This had prompted us to start the new newsletter.The local officials were concerned about the lack of public participation in the urban planning strategy decision making, such as public opinion on the new proposed traffic ways, or roadside trees, as well as more fundamental questions like whether the residents really want rezoning efforts. Our new newsletter provided a solution to this. We published questionnaires every two to three months which updated readers about the latest urban replanning proposals by the administration. This enabled us to create a mechanism where the newsletter was used to collect public input which are utilized for further development.
Making a National Bestseller
However this mechanism only allowed us to learn cases related to our own community. It did not cover what was going on outside of our district, and therefore everyone started to want to know what the neighbors are doing or how they are doing.
Even if similar projects are carried out in different districts, it is no surprise that progress varies depending on the district. It is natural for readers to have interests in the situation of other districts.With different government offices holding the jurisdiction over each district, it is hard for the party in the western district to learn what their counterparts in the eastern district are doing, even if there are regular meetings between them. With information not keeping pace with reality, a lot of people came to CO-PLAN offices seeking timely insight. There was a growing demand for more case studies of various districts, and to be able to make copies of that information.Photocopies cost 10 yen per page. For 150 pages of newsletter, it would cost about 1,500 yen. So we decided to compile the newsletters into a book and publish it, to be sold for 1,500 yen a copy. The book,named "Fukkou Shimin Machizukuri" (re-creating the community for citizens), was released from the publishing house Gakugei Shuppan-Sha with eight volumes in total. The book also featured announcements made by the government offices as well as information on various districts.
Driven by the demand, it did not take long for the book to become popular. The book was selling all over the country from the start, and became a bestseller for about three months. About 1000 copies were printed, and many reprints were produced.The sales shrunk to about 500 copies in the end, though (laugh).But I guess this is just how this type of books are; there is no everlasting demand for books like this.
Translating stories behind text
As we continued our activities, we received a request to create an English version of our case studies that featured reconstruction projects which took place in various districts.
Simply using the word "redevelopment" in the English translation wasn't enough to accurately convey the nuances. Putting it as "land readjustment" alone would not work well either, even though the nature of the works executed was replotting of the lands. There must be an explanation as to what it means and why such a thing must be done in the process of earthquake disaster reconstruction.
For example, to convey that land readjustment is considered as a disaster recovery project, you need to start by addressing why a congested area damaged by fire after the earthquake needs a new road. Likewise, it is difficult to make people understand the importance of having town development councils without explaining the background. So instead of making a glossary for disaster relief terms, I intended my translation to fill in the story behind the text.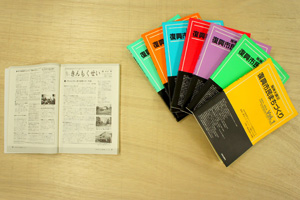 Initial research
Date
January 1995 – July 1997, April 1999 – March 2002, April 2003 – March 2007
Background and Objectives
Production of newsletters for "Citizen's Network for Restoring Towns Damaged by the Great Hanshin Earthquake". The newsletters were designed to provide a platform to share the reconstruction initiatives taken place by urban planning professionals who worked for resident-centered community rebuilding. The newsletters featured the whereabouts of the professionals, the projects they were doing, as well as how they coped with their challenges.The newsletters aimed to support the recovery of the areas damaged by he Great Hanshin-Awaji Earthquake by collecting, organizing and disseminating as much information as possible about reconstruction community development. From "Kinmokusei" Inaugural issue published February 10, 1995, edited)
Target
Local residents of the afflicted areas as well as the victims who were forced to evacuate to outside of the afflicted areas. The newsletters provided a media for them to learn the status of their home town.
Content
Bi-weekly publication of "Kinmokusei" (Inaugural issue published on February 10, 1995 , Final issue (No. 50) was issued on August 27, 1997)
Founder / Organizer
Secretariat of the Citizen's Network for Restoring Towns Damaged by the Great Hanshin Earthquake.
Partner organizations/companies
Academia, publishers, town planning consultants, citizens
Area where activities were taken place
Hanshinkan Area (the area between cities of Osaka and Kobe)
Address
2-5-20, Kusuoka-cho, Nada-ku, Kobe-shi
Related article: Interview
Citizen's Network for Restoring Towns Damaged by the Great Hanshin Earthquake